Boundary Supply Errant Backpack Review
An extremely versatile and feature rich bag that doesn't look half bad, the Errant has lots of organization in an innovative pack for everyday use. One of my favorites.
What's so great about this bag is all the innovative tech and organization features (which enable a whole shit-ton of applications for this bag) AND it doesn't look like some extremely technical crazy use-case-specific behemoth. It actually works great as a basic-ass backpack even though it has all these killer features.
Great straps and back support. Very breathable for all you bike commuters out there. Rigid straps that I'll bet will wear in really nicely under heavy use.
Speaking of heavy use, the materials and built are going to last a very long time. 500D Duramax Kodra feels great to the touch while providing a very durable soft shell to the bag. AND all the materials are sourced sustainably from Bluesign approved vendors.
Ok, tons of pockets on the bag, both outside and inside. Secret compartment against your back, side pocket, bottom shoe pocket for gym rats (I use it for more tech organization), lash straps, water bottle pocket… and then on the inside there's some great organization for your laptop, charger, and extra tech.
Tons of accessories you can get for the bag as well… multiple camera cubes (the one that integrates at the top of the bag is actually really nice), extra organization pouches, etc.
Pretty killer looks, given all it's lovely techy features.
Excellent tech organization. Materials used here feel so good.
Removable camera insert, easy access from the top of the bag.
Collapsible shoe compartment works as extra pocket at the bottom of the bag.
---
Other Bags to Check Out:
The Everyday backpack from Peak Design is delightfully innovative and thoughtfully conceived. It's definitely a design for the centuries.
An extremely solid everyday backpack suited for carrying lots of gear or compressing down to a minimal daily carry haul. One of my favorite all-around bags.
The Homebase series from Tortuga features this incredibly lightweight sailcloth material that's water resistant and super strong. (It feels light and scary! But it's damn strong stuff.) This makes for an incredibly light and resilient travel bag.
Expensive, but it's got an amazing warranty. A simple, understated, powerful bag that will gladly see you through anything in life.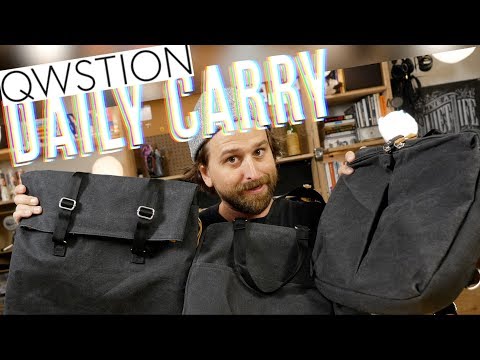 Qwstion is a product design studio in Zurich Switzerland who makes very stylish bags for the "hipper" areas of town without sacrificing functionality.
Free bags & badass info
Signup and get entered to win a free bag every month.
You'll also get notified when we add new bags to the site.
---
Created by Chase Reeves