Mission Workshop Rhake Backpack Review
At first glance it looked weird. Then I used it for a couple days. Good god does this bag do it all well. Seriously, so much organization, so well built.
Weatherproof — this sucker is so well protected against the elements!
Excellent materials — this bag will last a looooooooong time.
Excellent organization — I fell in love with how it organized all my stuff.
Very comfortable — these straps, there's something about them… so comfy.
A very unique look for a bag. Kind of urban utilitarianism. 
Amazing amount of external access and organization on this guy. Like a hipper version of the Tom Bihn Synapse 25. 
The whole thing is water resistant and built with excellent materials. 
Very comfortable back panel and straps, regardless of how much you pack it full. 
---
Other Bags to Check Out:
This is what I call the "badass bargain option." Everything you need in a daily carry, organized innovatively so it stays fun to use, and it's super affordable.
The Classic Backpack Plus from Bellroy has a clean aesthetic, lots of organization and some excellent build and materials... well suited to be your everyday carry for work.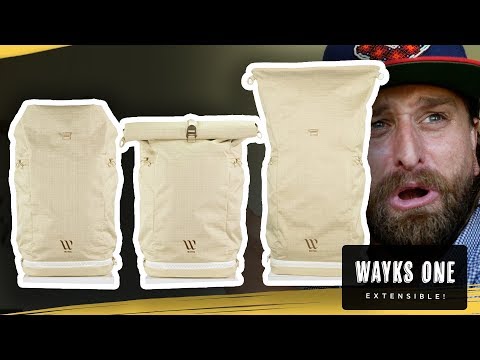 A very functional eco-friendly bag, the Wayks One expands and compresses into multiple different functions, making it a great bag for daily and travel use.
An extremely solid everyday backpack suited for carrying lots of gear or compressing down to a minimal daily carry haul. One of my favorite all-around bags.
The Daylight Backpack from Tom Bihn is a workhorse of a packable daypack.
Free bags & badass info
Signup and get entered to win a free bag every month.
You'll also get notified when we add new bags to the site.
---
Created by Chase Reeves