OpposeThis Invisible Carry-On Backpack Review
A very innovative backpack for either large daily carry or serious travelers who need one bag for both travel and daily carry. This is a winner for me in the medium size 1-bag travel category.
First, it is a very competent large-capacity daily carry bag. 2 external access pockets, laptop pocket and a large front flap with internal pocket panel give it solid organization. Then you have the large internal space for any extras you need to take. The bag is larger than most of the daily carry bags I use, but it's not too large to carry at all.
The aesthetic is sleek and modern. Fits in a movie like Mission Impossible. It's mostly a bag that doesn't say too much… it does a lot, doesn't say much.
Solid but uninspired materials. I like the main fabric, 800D lightweight, water resistant polyester blend with some details coated in PU+PVC (handles and bottom front panel). It feels durable. And I like the PU+PVC coated bottom-front bit. However, making the organization panel out of the 800D material feels weird, like that's a place you can give us a little detail. The mesh inside the quick access pocket, the liner for the laptop, these feel a little uninspired to me, and I love it when a bag inspires me. Same with the PVC coated handle… Everything DOES feel solid, durable, but I want a little more tactile interest in the next update to this bag… because it's gonna be around a while.
It's a very worthy minimal travel backpack. One of the (many) zippers expands and contracts the main compartment from 24L to 33L, making quite a bit of room for your clothing and travel gear when fully expanded. Comparable to the Minaal Carry On, Heimplanet Transit, etc.
There are LOTS of zippers on this bag. You will need to take seriously your zipper strategy because some of them you will not be using very much, but others you will be using multiple times a day. I wish they would have made some distinctions on the zipper pulls.
Expandable back compartment reveals a surprisingly large area for travel packing. 
Solid organization in this bag, from the laptop compartment to the quick access pocket, org admin panel and more. 
Comfy and breathable back panel helps you carry all yo shiiiiit. 
---
Other Bags to Check Out:
An utterly functional daypack in a tight little package with some modern metro styling.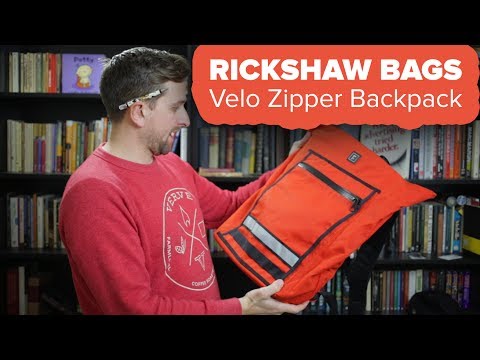 The Velo backpack from Rickshaw Bags is an awesome, simple bag that comes in a few different sizes.
The Freerain24 2.0 from Matador is an unbelievably light pack that offers incredible packability and water resistance for your daily travel needs.
The Guide Pack from Tom Bihn is a bag geek's boner pill. It's classic design and exceedingly excellent manufacturing make it more like an heirloom than a bag. But this bag also performs great as a travel bag!
Free bags & badass info
Signup and get entered to win a free bag every month.
You'll also get notified when we add new bags to the site.
---
Created by Chase Reeves