Qwstion Day Tote Backpack Review
The Day Tote from Qwstion is a remarkably designed bag that's surprisingly awesome to use.
Large capacity… you'll be surprised how much you can fit in this thing.
Beautiful materials… Qwstion really put a lot of thought into the sustainability and quality in use of their materials. Lovely stuff.
Backpack + tote carry modes… the backpack straps are slim and minimal and potentially not comfortable if your bag is heavy, so keep that in mind. It's never kept me from using this bag, though.
Perfect number of pockets… it's very simple and very thoughtfully designed, but there's the perfect amount of pockets in here for my daily use.
Modern, stylish, creative aesthetic. 
Surprisingly large capacity inside the bag. Nice laptop compartment and subtle organization. 
Slim shoulder straps look fashionable, also convert to tote handles for carry by hand. 
---
Other Bags to Check Out:
The RiutBag Crush is a packable daypack made from minimal materials so you can easily fit it into the corner of any travel bag you use.
This is what I call the "badass bargain option." Everything you need in a daily carry, organized innovatively so it stays fun to use, and it's super affordable.
This bag from Filson is easily my favorite briefcase-type bag due to it's excellent materials, organization, and classic aesthetic.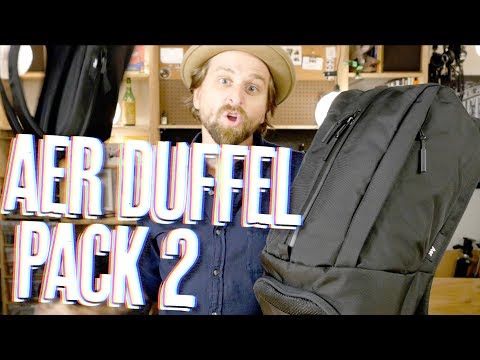 The Aer Duffel Pack is not the tool for every job, but for particular uses it just might be perfect for you.
Free bags & badass info
Signup and get entered to win a free bag every month.
You'll also get notified when we add new bags to the site.
---
Created by Chase Reeves