Standard Issue Backpack from The Brown Buffalo Review
A simple bag with some modern upgrades and excellent materials that will stay useful for years to come.
Excellent materials — DWR coated 525 ballistic nylon cordura, YKK aquaguard zips, excellent feeling straps… the guy mentions the THREAD he's using on the info page. I like that!
I love the straps, very comfortable, very quality feeling. And I love that there's a luggage strap.
It's a bigger bag, 25 liters, with two tall compartments, one outer pouch.
However, I do not like  the lining on the inside of the bag! Feels too thin to me, bag bunches up, hard to get laptop in, etc.
---
Other Bags to Check Out:
The Day Pack from Aer's Work Collection was instantly one of my favorite simple daily carry bags because it's minimal frame but high-functioning insides.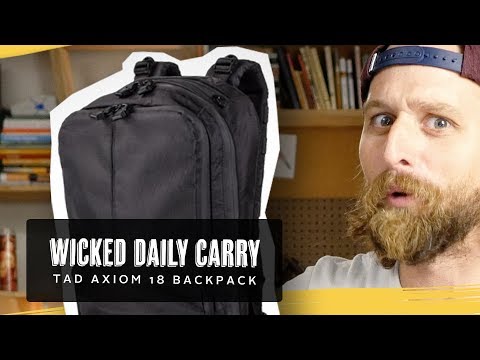 The Axiom 18 pack from Triple Aught Design is a compact, stealthy little daily carry that can handle heavy duty organization and bad weather.
A gorgeous messenger bag with a kind of modern urban-alpine aesthetic and absolutely lovely, dense, long-haul materials.
The Dayfarer backpack is one designer's take on the perfect bag for work and gym.
A very innovative backpack for either large daily carry or serious travelers who need one bag for both travel and daily carry. This is a winner for me in the medium size 1-bag travel category.
Free bags & badass info
Signup and get entered to win a free bag every month.
You'll also get notified when we add new bags to the site.
---
Created by Chase Reeves