Tom Bihn Synapse 25 Review
One of the highest rated daily backpacks in the world due to it's accessibility, organization, comfort and capacity. Stick to it for some time and you'll see what we mean. Dad-bag looks tho.
More often than I care to admit I simply grab this bag because I KNOW it won't let me down. That's how I feel about this bag.
All the organization is on the outside of the bag, which makes it insanely easy to access everything you need.
Then the capacity inside the main compartment is surprisingly roomy. I'm amazed that I can travel with this bag for 3 weeks and beyond (as long as I've got access to some laundry :).
Also, it's very comfortable to travel with, even when it's completely loaded to the brim. When you pack it for minimal travel all the clothes rest up against your back, so it's soft and comfortable (compared to most bags which place the laptop against the back). I was surprised to see how much I noticed the comfort of this setup.
Tom Bihn also sells loads of accessories you can use with this bag. I use the laptop cache and a few of their pouches that connect to "O" rings inside the bag.
And it needs to be said how much I love the fact that I can use this bag as both a travel bag AND a daily carry bag. Similar to the Wandrd Prvke in that regard, and a feature I find myself really hungry for these days.
If I could combine the functionality of this bag with the look of a GoRuck bag I'd be in heaven. That being said, I reach for this much more often than I reach for the GoRuck. Love this bag!
Tons of pockets you can view on the outside of the bag. External access on this thing is excellent.
Excellent build and materials. Tom Bihn sweat the details in the best way.
Solid dad bag vibes… one of the most functional daily packs in the world.
---
Other Bags to Check Out:
An utterly functional daypack in a tight little package with some modern metro styling.
Ok, these bags from Nomatic are chock full of pockets. There are 2 different bags: the Travel Pack expands up to about 30L, perfect for short trips and minimal travel. The Backpack is 20-24L daily carry. Both are very sleek and, like I said, so many pocketzzz!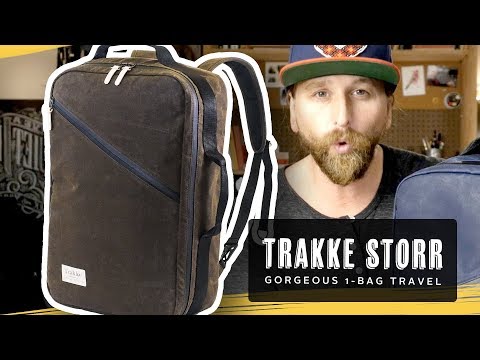 The Stor backpack from Trakke is a lovely 30L pack for travel and gear moving.
Expensive, but it's got an amazing warranty. A simple, understated, powerful bag that will gladly see you through anything in life.
The Day Pack from Aer's Work Collection was instantly one of my favorite simple daily carry bags because it's minimal frame but high-functioning insides.
Free bags & badass info
Signup and get entered to win a free bag every month.
You'll also get notified when we add new bags to the site.
---
Created by Chase Reeves