Trakke Bannoch Backpack Review
A gorgeous bag with a kind of modern urban-alpine aesthetic and absolutely lovely, dense, long-haul materials.
Materials on this bag are excellent. I love how they bound the edges of the straps and flaps with waxed cotton… nice touch.
The metal latches will take some getting used to, but they'll last a million years… I use them all the time on one of my bags and, while it's definitely some cognitive load, I also respect the bag enough that it feels kind of like a nice moment in my day.
I like the two tall pockets on the front of the bag. Nice organization.
Lots of space for daily carry, but not the biggest bag out there. This is made to be stylish and useful, not massive and spacious.
Laptop pocket with a little bit of organization on a panel round out the inside of the bag.
Video about this backpack:
Made with some of the loveliest, most durable, most stylish materials in the world.
I love the way Trakke designs classic products with classic looks, but with plenty of pockets for modern life.
---
Other Bags to Check Out:
The Day Tote from Qwstion is a remarkably designed bag that's surprisingly awesome to use.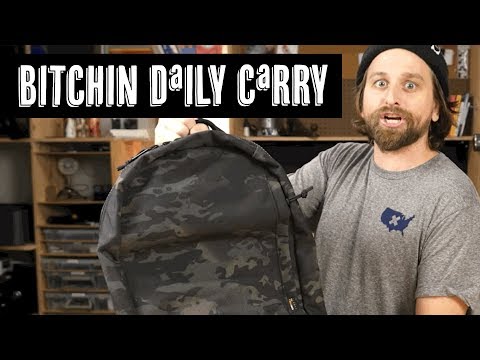 The Conceal Pack from Brown Buffalo is one of my favorite daily carry bags of all time because it looks so good and is made so well.
A very innovative backpack for either large daily carry or serious travelers who need one bag for both travel and daily carry. This is a winner for me in the medium size 1-bag travel category.
The Daylight Backpack from Tom Bihn is a workhorse of a packable daypack.
Free bags & badass info
Signup and get entered to win a free bag every month.
You'll also get notified when we add new bags to the site.
---
Created by Chase Reeves